International College Cup 2017
The best university teams from around the world have descended on Wuhan, China to represent their university, country, and region in the International College Cup 2017. Teams from China, Hong Kong, Taiwan, Southeast Asia, Korea, North American, and most importantly Europe will compete against each other to claim victory in the International College Cup Finals and a chance to represent esports at the annual Summer Universiade in Taipei.
Teams will play in the group stage with the top two teams from each group qualifying for the semi-finals and a chance to become the best international university team. Here's how the groups stack up: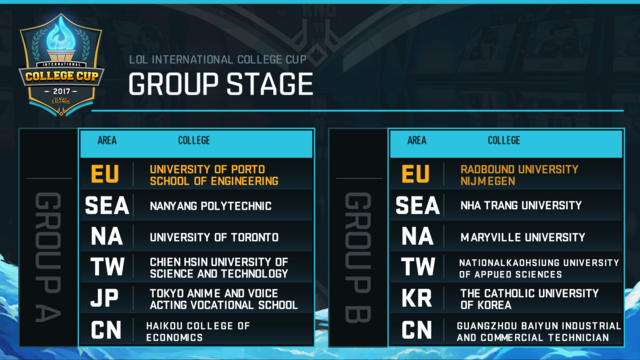 Representing Europe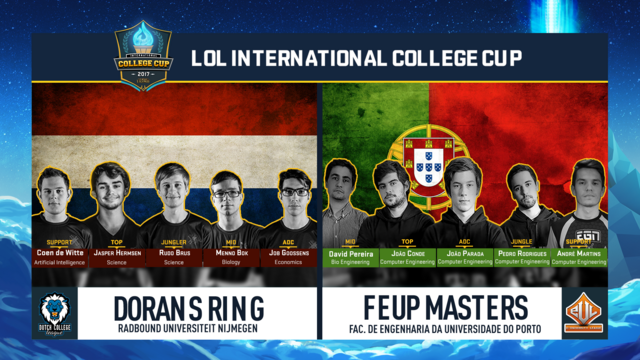 Qualification
University teams from across Europe competed in their national leagues over the past season. The champions from France, Germany, Great Britain, Spain, Italy, Portugal, Ireland and the Netherlands earned a place in the International College Cup European Qualifiers hosted by UEM. The team from Portugal and the Netherlands qualified decisively and booked their place to compete against the best on the international stage.
Portugal
Portugal have a history of being dominant at international university tournaments and the International College Cup European Qualifiers were no exception. This year they are represented by FEUP Masters from the University of Porto Engineering Faculty. They won Group A undefeated, beating the Irish (Maynooth University), French (Qbyte) and German (TDR TUHH GamING) teams convincingly. Their next challenge was Group B's second place team from Great Britain (Grey Warwick) in the qualification game, no British team had beaten a Portuguese team at a collegiate level and this tournament was no different, FEUP Masters showed why they deserve to represent Europe on the world stage and won 2-0.
The Netherlands
The Dutch team came into the European Qualifiers as an unknown quantity, Dorans Ring from Radboud University Nijmegen had to make roster changes to comply with the International College Cup rules and based on their individual ranking were seeded 5th in the competition. It quickly became clear that this was a team that meant business after they convincingly beat a very strong Spanish team (Thunders UVIGO) team in game 1, then continued their win streak by taking down the Italian (PoliTO Red Team) and British (Grey Warwick) teams with no mercy. Having won Group B undefeated they played a strong German team (TDR TUHH GamING) who were the only serious challengers to Group A winners Portugal, this didn't phase Dorans who won the series 2-0 and showed the world why they shouldn't be underestimated.
You can follow them on Twitter @dorans_esports
How to watch the action from Wuhan
Watch the live stream on the UEM Twitch channels to follow all the European group stages games plus the semifinals and finals.
English: https://www.twitch.tv/uemasters
Friday: Group Stage from 10am BST / 11am CEST
Saturday: Semifinals from midday BST / 1pm CEST
Sunday: Finals from 9am BST / 10am CEST
Dutch: https://www.twitch.tv/uemasters_nl
Thursday: Group Stage from 5am CEST
Friday: Group stage from 5am CEST
Saturday: Semifinals from 6am CEST
Sunday: Finals from 10am CEST
Follow the results and tournament information on:
Twitter: @uemasters or on the UEM Facebook page